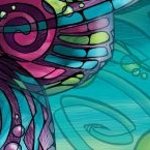 nyoo 4c
I am nothing thus I am the world again nothing I am, nothing I couldn't be born a warrior with injustice in the eye don't you let me forget this as I may did before became a stranger to myself I am of light and of dark yet to be understood learned from and transformed a child forever cured of growing up for a child's wisdom holds my reality a peaceful beast learning to manage it's powers yet ever so untamed There is so much more to life than these lives we've been offered. There is too much to express to keep it to yourself. And there is way too much to live for to settle for being alive. Yet it is something we must regain, relearn and recall from our ancient memories for the cost of this civilized survival. So effortlessly I can imagine myself dwelling in the heart of the forest but what good would that be except for my own comfort? If I am to live day by day in this cold place, then listen to my tales of the fire burning within each of us! nyoo 4c joined Society6 on April 15, 2014
More
I am nothing thus I am the world again nothing I am, nothing I couldn't be
born a warrior with injustice in the eye don't you let me forget this as I may did before became a stranger to myself
I am of light and of dark yet to be understood learned from and transformed
a child forever cured of growing up for a child's wisdom holds my reality
a peaceful beast learning to manage it's powers yet ever so untamed
There is so much more to life than these lives we've been offered. There is too much to express to keep it to yourself. And there is way too much to live for to settle for being alive.
Yet it is something we must regain, relearn and recall from our ancient memories for the cost of this civilized survival.
So effortlessly I can imagine myself dwelling in the heart of the forest but what good would that be except for my own comfort?
If I am to live day by day in this cold place, then listen to my tales of the fire burning within each of us!
nyoo 4c joined Society6 on April 15, 2014.