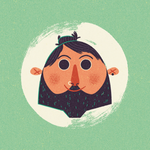 Oban Jones
Oban has always had passion for illustration. From the day he first picked up a crayon he hasn't stopped drawing, doodling and creating. Sometimes to the annoyance of teachers and other grown-ups who couldn't understand his need to constantly scribble was the only way he could take in information. After gaining a 2:1 in Fine Art he trained in Graphic Design through interning at some lovely studios. He then went onto work for some great companies as a Designer, before taking the leap to Freelance after 4 years in the industry. Oban has a passion for whimsical and vintage illustration, clean and modern design, hand drawn typography, a bit of classic Disney and anything beautifully printed. He is originally from the North of England, currently living with his (also English) wife in Toronto. Other things he enjoys include rock climbing, snowboarding and Death Cab for Cutie. Oban Jones joined Society6 on August 10, 2016
More
Oban has always had passion for illustration. From the day he first picked up a crayon he hasn't stopped drawing, doodling and creating. Sometimes to the annoyance of teachers and other grown-ups who couldn't understand his need to constantly scribble was the only way he could take in information.
After gaining a 2:1 in Fine Art he trained in Graphic Design through interning at some lovely studios. He then went onto work for some great companies as a Designer, before taking the leap to Freelance after 4 years in the industry.
Oban has a passion for whimsical and vintage illustration, clean and modern design, hand drawn typography, a bit of classic Disney and anything beautifully printed.
He is originally from the North of England, currently living with his (also English) wife in Toronto.
Other things he enjoys include rock climbing, snowboarding and Death Cab for Cutie.
Oban Jones joined Society6 on August 10, 2016.