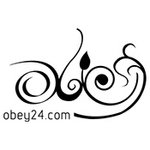 Obey24com
Born in 13th Nov, 1989 in Pforzheim where I lived until the age of 24. Since the age of 15 I'm working with photoshop and 4 years later it was just a matter of time to start with the art of photography. I quit my job 2 years ago, to focus myself on things I love to do. Some of this things are photographing & painting. Nowadays I live the most part of my life in Konstanz, near to swiss. My inspiration is the life i live, the things that happen and surely the music I listen to. One of the biggest inspiration and more a motiviation I think is death. To think about death makes me doing all those creative things. I want to leave a message to this world. I want to be "a part of life" - forever. Honestly I ain't got really a "working process". When I'm photographing, I try to have a usual day with the model(s), with myself or whatever. I don't want to change things. I love it naturally, authentic and later on, when I'm editing the pictures I just try to express that feeling a little more, or even to create a kind of feeling. Obey24com joined Society6 on August 27, 2014
More
Born in 13th Nov, 1989 in Pforzheim where I lived until the age of 24. Since the age of 15 I'm working with photoshop and 4 years later it was just a matter of time to start with the art of photography. I quit my job 2 years ago, to focus myself on things I love to do. Some of this things are photographing & painting. Nowadays I live the most part of my life in Konstanz, near to swiss.
My inspiration is the life i live, the things that happen and surely the music I listen to. One of the biggest inspiration and more a motiviation I think is death. To think about death makes me doing all those creative things. I want to leave a message to this world. I want to be "a part of life" - forever.
Honestly I ain't got really a "working process". When I'm photographing, I try to have a usual day with the model(s), with myself or whatever. I don't want to change things. I love it naturally, authentic and later on, when I'm editing the pictures I just try to express that feeling a little more, or even to create a kind of feeling.
Obey24com joined Society6 on August 27, 2014.