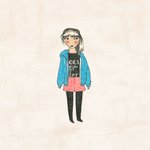 carolyn alexander
Carolyn Alexander is a Scottish illustrator, born and raised in Glasgow. She graduated from the Glasgow School of Art, with a BA(HONS 1st class) Visual Communication: specialising in Illustration and smoking. She now lives up a mountain in France where she draws all day and eats cheese all night. www.carolynalexander.co.uk www.neparlepasfrancais.com carolyn alexander joined Society6 on June 3, 2009
More
Carolyn Alexander is a Scottish illustrator, born and raised in Glasgow. She graduated from the Glasgow School of Art, with a BA(HONS 1st class) Visual Communication: specialising in Illustration and smoking.
She now lives up a mountain in France where she draws all day and eats cheese all night.
www.carolynalexander.co.uk
www.neparlepasfrancais.com
carolyn alexander joined Society6 on June 3, 2009.
carolyn alexander's Store
2 results
Filter