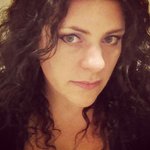 Octavia Vaughan
Creating art is my passion. I have always been an artist, it's who I am, I find it hard to do anything else. Originally I'm from Herefordshire in the Midlands UK, but over the last 10 years I have been traveling all over the world. I'm currently living in a Glen In Ireland and it truly is a magical place. I love to design fantasy style art with a dreamy edge, I'm a helpless romantic :) Designing tattoos is another creative outlet for me, and one where I can create for you. My websites are www.lunariantattoos.com www.lunarianart.com Octavia Vaughan joined Society6 on November 27, 2012
More
Creating art is my passion. I have always been an artist, it's who I am, I find it hard to do anything else. Originally I'm from Herefordshire in the Midlands UK, but over the last 10 years I have been traveling all over the world. I'm currently living in a Glen In Ireland and it truly is a magical place.
I love to design fantasy style art with a dreamy edge, I'm a helpless romantic :) Designing tattoos is another creative outlet for me, and one where I can create for you.
My websites are www.lunariantattoos.com www.lunarianart.com
Octavia Vaughan joined Society6 on November 27, 2012.