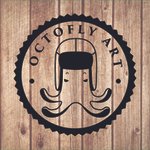 Octofly Art
Octofly Art is an independent project born at the end of 2013. That idea started as a desire to express a different kind of art, focusing on cartoon style, characterized by humor, skipping between various techniques, without any limitation. Currently many projects and cooperations are ongoing. Octofly Art joined Society6 on August 3, 2014
More
Octofly Art is an independent project born at the end of 2013.
That idea started as a desire to express a different kind of art, focusing on cartoon style,
characterized by humor,
skipping between various techniques, without any limitation.
Currently many projects and cooperations are ongoing.
Octofly Art joined Society6 on August 3, 2014.