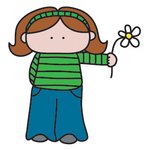 oekie
In dreamland there's is a place where Oekies live. Oekieland is full 2D, cute as can be, little human-like, creatures. Their world is much like ours: There are days and nights, green trees and blue skies, but also good and bad. The difference is that they live in harmony. A balance between all living things, which you can only dream of.
There are 53 Oekies and they are all unique. Oekieland is a world open to everyone. So if you want to visit it, just close your eyes. There's probably a welcome committee awaiting you!
®Oekie is a registered brand, please do not use, copy or edit any images without written permission from me.
» website http://lettheoekiesmakeyourday.nl » facebook https://www.facebook.com/pages/Oekie/186383868096687?sk=wall » blog http://oekies.blogspot.com » greeting cards NL http://www.kaartje2go.nl/kaartenwinkel/Oekies » greeting cards EN http://oekiecards.sendasmile.com
Read more