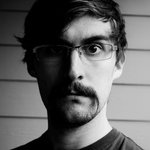 Kevin Ohlin
www.kevinohlin.com/bible I've been a mock-up artist, photographer, shoe salesman, census enumerator, lighting engineer, and web designer. I've built robots and installed/programmed/operated lighting, sound, video, and hologram systems. I've designed logos, brands, and websites and illustrated the Bible (and continue to do so). I've written and played all sorts of music (as a part of Rocketship Radio, Honest Magic, and Wheels and Tracks). And that's just the beginning... Kevin Ohlin joined Society6 on May 9, 2012
More
www.kevinohlin.com/bible
I've been a mock-up artist, photographer, shoe salesman, census enumerator, lighting engineer, and web designer. I've built robots and installed/programmed/operated lighting, sound, video, and hologram systems. I've designed logos, brands, and websites and illustrated the Bible (and continue to do so). I've written and played all sorts of music (as a part of Rocketship Radio, Honest Magic, and Wheels and Tracks).
And that's just the beginning...
Kevin Ohlin joined Society6 on May 9, 2012.
Genesis 379_Print by Kevin Ohlin
244 results
Filter