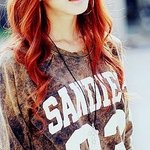 OldCoyote
I'm Gigi. I'm a 31 year old Aussie with too many decades in fandom under her belt, and too much time on her hands. All designs are inspired by fandoms, shows, movies and franchises that I do not own. All artworks used are created from scratch in photoshop, and while some may be based on or inspired by familiar imagery, none of these designs involve the direct usage of copyrighted logos. OldCoyote joined Society6 on June 4, 2013
More
I'm Gigi. I'm a 31 year old Aussie with too many decades in fandom under her belt, and too much time on her hands.
All designs are inspired by fandoms, shows, movies and franchises that I do not own. All artworks used are created from scratch in photoshop, and while some may be based on or inspired by familiar imagery, none of these designs involve the direct usage of copyrighted logos.
OldCoyote joined Society6 on June 4, 2013.
OldCoyote's Store
141 results
Filter