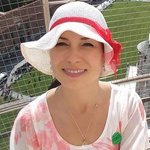 Olga Kuczer - Art of the Sacred Geometry
I am a Spiritual Artist, Visual Designer, Reiki Master and fortunate to be a part of the Yogananda Self realization Yoga path. I studied Visual Arts at the University of Russia, specializing in oil painting and later after moving to USA in 2007, I discovered my passion for web and graphic designs. At the beginning of 2007, I was searching for a way to demonstrate my manner of perceiving the world with the paintbrush, looking for my unique Art style. The pursuit lasted many years. It took shape and evolved through many works that were made, but there was still something missing. A few years ago, I started a new chapter in art and create something unique – the art of Sacred Geometry and Spirituality. I've been blessed to become a disciple of Paramahansa Yogananda. Now I am enjoying precious moments of everyday meditation, Kriya yoga and listening to the Divine Guidance. Olga Kuczer - Art of the Sacred Geometry joined Society6 on September 12, 2014
More
I am a Spiritual Artist, Visual Designer, Reiki Master and fortunate to be a part of the Yogananda Self realization Yoga path.
I studied Visual Arts at the University of Russia, specializing in oil painting and later after moving to USA in 2007, I discovered my passion for web and graphic designs.
At the beginning of 2007, I was searching for a way to demonstrate my manner of perceiving the world with the paintbrush, looking for my unique Art style. The pursuit lasted many years. It took shape and evolved through many works that were made, but there was still something missing.
A few years ago, I started a new chapter in art and create something unique – the art of Sacred Geometry and Spirituality.
I've been blessed to become a disciple of Paramahansa Yogananda. Now I am enjoying precious moments of everyday meditation, Kriya yoga and listening to the Divine Guidance.
Olga Kuczer - Art of the Sacred Geometry joined Society6 on September 12, 2014.
Olga Kuczer - Art of the Sacred Geometry's Store
516 results
Filter