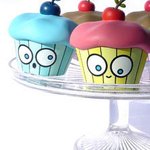 olive47
olive47 wants to save your over-stimulated soul and is on a mission to bring a calm to the chaos of modern living. Taking cues from the psychology of cute, and the abundant nature that surrounded her southern upbringing, olive47 seeks to create a sense of unique familiarity in the character icons that inhabit her work in an attempt to deliver the viewing public into a different, more well-adjusted state of being through the visual dialogues created in her imagery
. Likes: tiny mammals, hollyhocks, tall boys, heavy bass, and white middle-class kids who pretend to be gangstas.
Dislikes: olives, anise or banana flavored items.
She was once rumoured to be the bastard daughter of Tammy Faye Bakker, and the second cousin once removed to Joan of Arc. She might be in love with you.
Read more