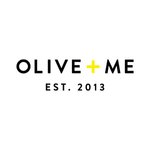 Olive & Me Studios
Hello! My name is Tracy and I am an illustrator/graphic designer currently living in Southern Minnesota with my hubby and a drooling St. Bernard named Olive (my partner in crime). I am a lover of all things design and currently designing surface patterns, art prints and stationery. I mostly work digitally but occasionally I dabble in watercolor and line art. www.oliveandmestudios.com https://www.facebook.com/pages/Olive-Me-Studios/512257545538613?ref=hl https://twitter.com/OliveandMe Olive & Me Studios joined Society6 on September 14, 2014
More
Hello! My name is Tracy and I am an illustrator/graphic designer currently living in Southern Minnesota with my hubby and a drooling St. Bernard named Olive (my partner in crime). I am a lover of all things design and currently designing surface patterns, art prints and stationery. I mostly work digitally but occasionally I dabble in watercolor and line art.
www.oliveandmestudios.com
https://www.facebook.com/pages/Olive-Me-Studios/512257545538613?ref=hl
https://twitter.com/OliveandMe
Olive & Me Studios joined Society6 on September 14, 2014.
Olive & Me Studios's Store
113 results
Filter