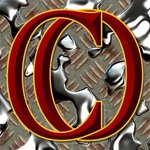 O L I V E R ArtWorks
I have had a bit of a unique experience in the world of visual arts. My father was a graduate of the Philadelphia College of Art and worked in the commercial art field mainly as a product and packaging designer. He also designed advertising displays and did architectural renderings. My uncle was a cartoonist for the Phila. Bulletin. Myself, I never graduated from anything other than Marine Corps boot camp. After returning from Vietnam and re-entering civilian life I attended school for architectural drafting. From there I went on to work as an art consultant, as a union member of the printers union working on huge roto-gravure presses for the Phila. Inquirer and Triangle Publications (TV Guide), staff artist and later production supervisor for an advertising newspaper, Art director and production manager for print media publications and art director for a couple of high-powered ad agencies. All the while doing fine art and commercial art. I have had a dozen jobs in other various fields like oil refineries, chemical plants, construction, etc. Whatever put bread on the table was always fine with me. I have never had any interest in awards or juried shows and have avoided them like the plague. While working as an art consultant I learned the politics of the art world which basically comes down to it's not what you know but who you know. Any shows I have done have been one man shows where I usually had a charity included in the affairs and would donate profits from sales. O L I V E R ArtWorks joined Society6 on January 17, 2013
More
I have had a bit of a unique experience in the world of visual arts. My father was a graduate of the Philadelphia College of Art and worked in the commercial art field mainly as a product and packaging designer. He also designed advertising displays and did architectural renderings. My uncle was a cartoonist for the Phila. Bulletin.
Myself, I never graduated from anything other than Marine Corps boot camp. After returning from Vietnam and re-entering civilian life I attended school for architectural drafting. From there I went on to work as an art consultant, as a union member of the printers union working on huge roto-gravure presses for the Phila. Inquirer and Triangle Publications (TV Guide), staff artist and later production supervisor for an advertising newspaper, Art director and production manager for print media publications and art director for a couple of high-powered ad agencies. All the while doing fine art and commercial art. I have had a dozen jobs in other various fields like oil refineries, chemical plants, construction, etc. Whatever put bread on the table was always fine with me.
I have never had any interest in awards or juried shows and have avoided them like the plague. While working as an art consultant I learned the politics of the art world which basically comes down to it's not what you know but who you know. Any shows I have done have been one man shows where I usually had a charity included in the affairs and would donate profits from sales.
O L I V E R ArtWorks joined Society6 on January 17, 2013.
O L I V E R ArtWorks's Store
1000+ results
Filter