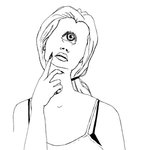 Olivia Sementsova
I am an Artist and Designer working out of the Toronto area. I am currently in the process of completing my Bachelors of Industrial Design Degree. Before returning to school I worked as a freelance Costume Designer and assistant for the Toronto Film and Television industry. You can view more info by going to; https://www.facebook.com/olivia.sementsova13 https://www.tumblr.com/blog/oliviadesign13 https://www.behance.net/oliviasementsova Olivia Sementsova joined Society6 on July 4, 2015
More
I am an Artist and Designer working out of the Toronto area. I am currently in the process of completing my Bachelors of Industrial Design Degree. Before returning to school I worked as a freelance Costume Designer and assistant for the Toronto Film and Television industry.
You can view more info by going to; https://www.facebook.com/olivia.sementsova13 https://www.tumblr.com/blog/oliviadesign13 https://www.behance.net/oliviasementsova
Olivia Sementsova joined Society6 on July 4, 2015.