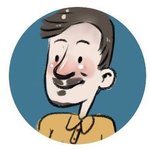 Olli Hietala
Hi and welcome to my shop! My name is Olli and I am a tall finnish guy who loves to draw illustrations, caricatures and sometimes even comics. My biggest inspirations come from people, scifi and fantasy. And my style varies with my mood and chosen tools from whimsical, joyful and lighthearted to even macabre, abstract and dark. If you are interested in caricatures, commissions or just something unique drawn for you let me know and we'll make it happen. I mainly focus on digital painting these days, but I also love traditional mediums such as ink, markers, pencils and watercolors… You can find more of my work at: ollihietala.com Olli Hietala joined Society6 on September 13, 2015
More
Hi and welcome to my shop! My name is Olli and I am a tall finnish guy who loves to draw illustrations, caricatures and sometimes even comics. My biggest inspirations come from people, scifi and fantasy. And my style varies with my mood and chosen tools from whimsical, joyful and lighthearted to even macabre, abstract and dark.
If you are interested in caricatures, commissions or just something unique drawn for you let me know and we'll make it happen. I mainly focus on digital painting these days, but I also love traditional mediums such as ink, markers, pencils and watercolors…
You can find more of my work at: ollihietala.com
Olli Hietala joined Society6 on September 13, 2015.
Olli Hietala's Store
52 results
Filter