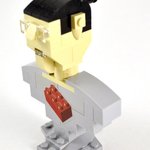 Omar Ovalle
Omar "Rick" Ovalle Creative Director & Lego Artist He has combined experience of more than 25 years in advertisement, graphic design and editorial design. Other experiences include animation, illustration, photography and fine arts. Lego artist for the last 3 years. He was born in Colombia, South America and has a BFA in Graphic Design from Universidad de Bogota JTL. Currently lives in NYC. He is a practitioner of martial arts for 30 yrs. for the last twelfth years he has been training I-aido (sho-dan) and just recently learning Kendo at the US Budo Kai-Kan in New York Two main streams represent my work as artist today. The first part is my work as a digital artist using software to create digital portraits and photo illustrations using digital images and manipulating photos to achieve a particular result. The second part of my work is more resent and involves a highly sophisticated, interlocking brick system know as a Lego bricks. My work is base at the time in reproducing the Star Wars characters in midi bust format. Specialties:Branding and identity,Product development,consultant for start up companies, entrepreneurs, digital illustration and lego Bricks.(MOC) Omar Ovalle joined Society6 on March 15, 2014
More
Omar "Rick" Ovalle Creative Director & Lego Artist
He has combined experience of more than 25 years in advertisement, graphic design and editorial design. Other experiences include animation, illustration, photography and fine arts. Lego artist for the last 3 years.
He was born in Colombia, South America and has a BFA in Graphic Design from Universidad de Bogota JTL. Currently lives in NYC.
He is a practitioner of martial arts for 30 yrs. for the last twelfth years he has been training I-aido (sho-dan) and just recently learning Kendo at the US Budo Kai-Kan in New York
Two main streams represent my work as artist today. The first part is my work as a digital artist using software to create digital portraits and photo illustrations using digital images and manipulating photos to achieve a particular result.
The second part of my work is more resent and involves a highly sophisticated, interlocking brick system know as a Lego bricks. My work is base at the time in reproducing the Star Wars characters in midi bust format.
Specialties:Branding and identity,Product development,consultant for start up companies, entrepreneurs, digital illustration and lego Bricks.(MOC)
Omar Ovalle joined Society6 on March 15, 2014.
Omar Ovalle's Store
30 results
Filter