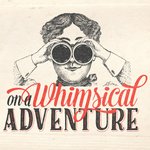 On a whimsical adventure
I am a Belgian artist and graphic designer… but also a mom to a lovely daughter, and wife to a wonderful husband. And I am totally passionate about graphic design and creating (photographic) art. In my work I try to find beauty and clarity amidst disorder, and I explore the striking lines of magic that run through everything around us. Follow me on Facebook http://goo.gl/DZ052L or on my site http://www.on-a-whimsical-adventure.com/ or on Pinterest https://www.pinterest.com/tinkelbel5/ On a whimsical adventure joined Society6 on February 25, 2015
More
I am a Belgian artist and graphic designer… but also a mom to a lovely daughter, and wife to a wonderful husband. And I am totally passionate about graphic design and creating (photographic) art. In my work I try to find beauty and clarity amidst disorder, and I explore the striking lines of magic that run through everything around us.
Follow me on Facebook http://goo.gl/DZ052L or on my site http://www.on-a-whimsical-adventure.com/ or on Pinterest https://www.pinterest.com/tinkelbel5/
On a whimsical adventure joined Society6 on February 25, 2015.