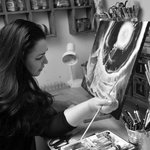 Ona Haynes
It fascinates me to have discovered that many Artist's share my diagnosis of Bi-Polar or 'Manic Depression'. I believe my mind set is a gift, providing me with a wealth of mental images, a constant flood of ideas & an insatiable appetite for creativity. My pieces mainly depict thoughts & feelings rather than literally representing physical things which makes it especially pleasing when my Art resonates with someone. I capture a spark of imagination, create a visual representation of it and then send my images out into the world sending inspiration from my mind's eye to the eye of the beholder. I've been selling my original Art for a number of years via the internet and in exhibitions, (group events and solo shows). I'm UK based but my work sells worldwide & has proved especially popular in the US. You can discover my original Art on Etsy at www.etsy.com/shop/onahaynes and read my musings on Wordpress at www.onahaynes.wordpress.com Thank you. Ona Haynes joined Society6 on February 15, 2014
More
It fascinates me to have discovered that many Artist's share my diagnosis of Bi-Polar or 'Manic Depression'. I believe my mind set is a gift, providing me with a wealth of mental images, a constant flood of ideas & an insatiable appetite for creativity.
My pieces mainly depict thoughts & feelings rather than literally representing physical things which makes it especially pleasing when my Art resonates with someone.
I capture a spark of imagination, create a visual representation of it and then send my images out into the world sending inspiration from my mind's eye to the eye of the beholder.
I've been selling my original Art for a number of years via the internet and in exhibitions, (group events and solo shows). I'm UK based but my work sells worldwide & has proved especially popular in the US. You can discover my original Art on Etsy at www.etsy.com/shop/onahaynes and read my musings on Wordpress at www.onahaynes.wordpress.com
Thank you.
Ona Haynes joined Society6 on February 15, 2014.