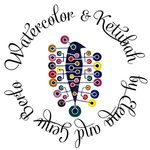 OnceUponaPaper
In nooks and corners Cold remains: Flowers of the plum - Yosa Buson We are both architects but with fine art education background. We've been employed in the architectural field for 10 years in various firms in NYC. In 2007 with the feeling of the upcoming recession, and a more pressing creative impulse, we start exploring commercial venues for our artistic expression. As an architect you always start with pencil on paper. You need to sketch your ideas and give form to many aspects of a building and the surroundings. Many times your space planning drawings start looking like a cluster of basic geometric shapes following a structure, patterns. From there, and combined with our fine art education and mind, it all emerged into our pattern paintings, especially the Trees of Life. In a short time and through market research, we've spotted the niche and rising trend of alternative guest books, and taking our art into the realm of Weddings and personalized products was only an natural step. Elena Berlo With bachelors in Fine Arts and Architecture from the University of Bucharest, and architectural practice in well established NYC firms, Elena Berlo is now a full time mom blending a family life with her passion for fine arts. She also assists with marketing and press. Genu Berlo Eugen Berlo takes the lead role in each project within the studio, and fully oversees all aspects of the concept, development and production of new and existing products. With Bachelors in Math and Architecture from the University of Bucharest, he continued his education in Fine Arts at Fashion Institute of Technology of NYC. Prior to inception of this venture, Eugen Berlo worked as architect for the New York City's most eminent architectural firms, and world's highly renowned Skidmore, Owings and Merrill (SOM) architectural, planning and engineering company. OnceUponaPaper joined Society6 on September 7, 2012
More
In nooks and corners Cold remains: Flowers of the plum
We are both architects but with fine art education background. We've been employed in the architectural field for 10 years in various firms in NYC. In 2007 with the feeling of the upcoming recession, and a more pressing creative impulse, we start exploring commercial venues for our artistic expression. As an architect you always start with pencil on paper. You need to sketch your ideas and give form to many aspects of a building and the surroundings. Many times your space planning drawings start looking like a cluster of basic geometric shapes following a structure, patterns. From there, and combined with our fine art education and mind, it all emerged into our pattern paintings, especially the Trees of Life. In a short time and through market research, we've spotted the niche and rising trend of alternative guest books, and taking our art into the realm of Weddings and personalized products was only an natural step.
Elena Berlo
With bachelors in Fine Arts and Architecture from the University of Bucharest, and architectural practice in well established NYC firms, Elena Berlo is now a full time mom blending a family life with her passion for fine arts. She also assists with marketing and press.
Genu Berlo
Eugen Berlo takes the lead role in each project within the studio, and fully oversees all aspects of the concept, development and production of new and existing products. With Bachelors in Math and Architecture from the University of Bucharest, he continued his education in Fine Arts at Fashion Institute of Technology of NYC. Prior to inception of this venture, Eugen Berlo worked as architect for the New York City's most eminent architectural firms, and world's highly renowned Skidmore, Owings and Merrill (SOM) architectural, planning and engineering company.
OnceUponaPaper joined Society6 on September 7, 2012.