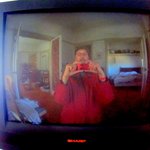 oneofacard
My early schooling was in the sciences. I took a major leap and ended up with a degree in painting, minor in photography. Then I went through all the steps of merging the two. And then the other two. I raised orchids, mostly Paphiopedilums, to use in my photos when I first moved to San Francisco. The pieces would almost always consist of two shots, one different than the other. Mostly the difference was in the motion of the moving flower at the tip of it's long stem and in the other photo quite still. Other still life combination shots would involve objects moved or from a different angle or with different lighting or even having the camera intentionally moved in one of the shots. This was a long time and two moves ago and I don't even know where the negatives are. I do still have some Wallgreen's 4X6's from that era and an album or two. Enlargements are scattered over the country. To make money for living expenses at that time, I was a gardener and window display craftsman. I always had an eye for style and even had a newspaper article about me. Then I got the color "xerox" and mail art crazes and started doing one of a kind postcards with my wry wit and plays on words stemming from years of reading "Mad Magazine" as a kid. But as the demand grew, I literally burnt myself out on one of a kind postcards. I'm back to photo's again and still using orchids, although outdoor types because my roomie's kitties eat the indoor plants, and now cactus flowers which I also grow outdoors, and using the painter's touch and most often the writer's wit. Michael May oneofacard joined Society6 on February 2, 2014
More
My early schooling was in the sciences. I took a major leap and ended up with a degree in painting, minor in photography.
Then I went through all the steps of merging the two. And then the other two.
I raised orchids, mostly Paphiopedilums, to use in my photos when I first moved to San Francisco. The pieces would almost always consist of two shots, one different than the other. Mostly the difference was in the motion of the moving flower at the tip of it's long stem and in the other photo quite still. Other still life combination shots would involve objects moved or from a different angle or with different lighting or even having the camera intentionally moved in one of the shots.
This was a long time and two moves ago and I don't even know where the negatives are. I do still have some Wallgreen's 4X6's from that era and an album or two. Enlargements are scattered over the country. To make money for living expenses at that time, I was a gardener and window display craftsman. I always had an eye for style and even had a newspaper article about me.
Then I got the color "xerox" and mail art crazes and started doing one of a kind postcards with my wry wit and plays on words stemming from years of reading "Mad Magazine" as a kid. But as the demand grew, I literally burnt myself out on one of a kind postcards.
I'm back to photo's again and still using orchids, although outdoor types because my roomie's kitties eat the indoor plants, and now cactus flowers which I also grow outdoors, and using the painter's touch and most often the writer's wit.
Michael May
oneofacard joined Society6 on February 2, 2014.