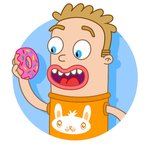 Onno Knuvers
Hi. I'm Onno Knuvers, a painter/illustrator currently based in Melbourne, Australia. I love to illustrate things, create new characters & worlds for them to inhabit. I'm currently available to work on new projects so if you need some fun and exciting work done just contact me and say hi. I was born in the Netherlands but grew up in New Zealand, where I spent a lot of time drawing, playing with Lego and watching classic 80′s Saturday morning cartoons. I currently live in Melbourne with my lovely wife Sylvia and our invisible pet beagle. Onno Knuvers joined Society6 on November 8, 2009
More
Hi. I'm Onno Knuvers, a painter/illustrator currently based in Melbourne, Australia. I love to illustrate things, create new characters & worlds for them to inhabit. I'm currently available to work on new projects so if you need some fun and exciting work done just contact me and say hi.
I was born in the Netherlands but grew up in New Zealand, where I spent a lot of time drawing, playing with Lego and watching classic 80′s Saturday morning cartoons. I currently live in Melbourne with my lovely wife Sylvia and our invisible pet beagle.
Onno Knuvers joined Society6 on November 8, 2009.