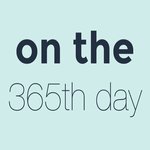 on the 365th day
This is my 365-day art project, and on the 365th day, she was a better artist. I have decided to take on a 365-day art project, I'll make something new everyday, and upload it to my Etsy and Society6 shops. My only aim is to create art everyday, taking 10-60 minutes. Sounds fun, right? on the 365th day joined Society6 on December 25, 2016
More
This is my 365-day art project, and on the 365th day, she was a better artist.
I have decided to take on a 365-day art project, I'll make something new everyday, and upload it to my Etsy and Society6 shops. My only aim is to create art everyday, taking 10-60 minutes. Sounds fun, right?
on the 365th day joined Society6 on December 25, 2016.