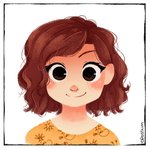 Opossum Illustrations
Hello all! I'm a hobbyist Illustrator, currently in my 3rd year of University studying a BA(Hons) in Game Design. I focus mainly on character design and concept art so a lot of what I learn from my degree comes through in my illustrations. Most of my designs are influenced by video games, anime and other such things. :) Opossum Illustrations joined Society6 on August 8, 2016
More
Hello all!
I'm a hobbyist Illustrator, currently in my 3rd year of University studying a BA(Hons) in Game Design. I focus mainly on character design and concept art so a lot of what I learn from my degree comes through in my illustrations.
Most of my designs are influenced by video games, anime and other such things. :)
Opossum Illustrations joined Society6 on August 8, 2016.
Opossum Illustrations's Store
30 results
Filter