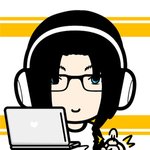 Orangebay T
Hi, I'm Jeanne aka "orangebay". I love patterns, shapes & colours so I decided to create a shop of art prints with colourful patterns. I also have a collections of graphic illustrations for purchase as art prints at https://society6.com/orangebayi. For links to my other works like my travel photographs on print-on-demand websites, check out @ http://orangebay-creations.weebly.com/shop.html Orangebay T joined Society6 on July 12, 2014
More
Hi, I'm Jeanne aka "orangebay".
I love patterns, shapes & colours so I decided to create a shop of art prints with colourful patterns. I also have a collections of graphic illustrations for purchase as art prints at https://society6.com/orangebayi.
For links to my other works like my travel photographs on print-on-demand websites, check out @ http://orangebay-creations.weebly.com/shop.html
Orangebay T joined Society6 on July 12, 2014.