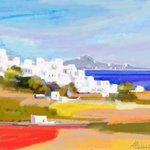 Alexis DIGART
About Alexis DIGART
Alexis Digart was born in Piraeus (Greece). In 1974 he moved to Paris (France) and began his studies at E.N.S.B.A. (Ecole Nationale Superieure Des Beaux Arts). In 1979, he received his diploma in Architecture (Architect D.P.L.G.).
While studying architecture he also attended workshops in 'Arts Plastiques'\*\* (painting, sculpture) with teachers such as Carrade, Marchandour, Corbato and Dalla Valee.
During his time as a student (1974-1979) he was also professionally engaged in painting (mainly watercolour paintings and pastel portraits), working at the Place du Tertre (Paris).
His watercolour paintings and portraits from this period already belong to private collections across the world.
The last three years, with new tools provided by digital technology, Alexis DIGART focuses again on his favorite themes (mostly Greek landscapes ) directly on the screen of the PC. He works mainly through his imagination or memory of the splendid landscapes of his beloved country, using a variety of digital painting\*\*\* software.
ARTIST'S STATEMENT
Every piece of my paintings is an original and unique work of art.
These paintings are digitally painted by me using a variety of digital design and painting software and they are unique and not a reproduction or photo manipulation.
I work mainly through my imagination (abstract expressionism) or memory of the splendid landscapes of my beloved country (landscapes-seascapes-harbors-cityscapes of impressionist or expressionist style ) or sometimes I retouch digitally some of my old drawings, paintings and portraits.
\*\*
http://fr.wikipedia.org/wiki/Arts\_plastiques
\*\*\*
http://en.wikipedia.org/wiki/Digital\_painting
Alexis DIGART joined Society6 on August 26, 2012.