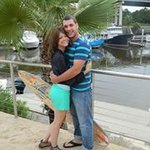 Orlandoarts Design
Originally from Gloucester, Massachusetts, I graduated from Western Kentucky University and settled in south-central Kentucky in my early twenties. I married my college sweetheart in 2009, adopted our dog Fenway that same year, and together we have a beautiful two-year old little boy that inspires me daily. I have been working in the corporate world of graphic design for the last four years that allowed me to gain a set of skills in design, photography, editing, and marketing.
I have a huge passion for sports, music, movies, and all things New England. I may be in the south for now, but a piece of my heart will always be in Massachusetts. If only I could convince my wife to love the snow, we would head north as soon as possible.
My favorite thing about being a graphic designer is knowing that my work has brought someone a piece of excitement into their lives. Whether it be the perfect ad to kick off your new business, a new logo to re-brand yourself, or even a Christmas card you can send to all your loved ones far away, I love being a part of adding a little bit of beauty and personal style into the lives of others.
Thanks for letting me be a part of your day,
Jason
Read more
Orlandoarts Design's Store
32 results
Filter