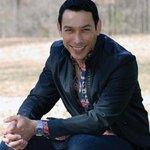 Orlando Silva
Born December 25, 1965 in Panama City, Panama, Orlando Silva specializes in digital and abstract art using memories of Panama's natural beauty as inspiration. Brilliant color, found in the lush jungles of Panama or in the majestic mountains and exotic flora and fauna, illuminates from Silva's first artwork. Then the Abstractionism take a very important role on Orlando's artwork.
After earning a degree in Business Administration from the University of Panama, Silva took photography courses at the Institute of Ganexa Arts and eventually found himself working in the fashion industry with his own boutique for young men. Looking for new perspectives, however, Silva moved to the U.S. in 2005 where he began experimenting with classic celluloid photography (film) to achieve endless color and design techniques used today in his art. Later he was introduced to the world of paper and all of its numerous scales of applications.
He is absolutely convinced that people appreciate beautiful things, whether consciously or subconsciously, and further believes pleasures are based on instinctive interpretations. He contends that we all appreciate colors, forms, textures, sounds, movements and smells in our own way. He searches for these beautiful things and interprets them through his art. As an analytical person who critiques ordinary objects, Silva tries to understand and view things with a simplified beauty. He strives to apply this way of thinking to his daily life in dealing with work, family or friends. Although considered a digital and abstract artist, Silva also works with wood, metal, glass, acrylic and oil paints.
Read more
Orlando Silva's Store
Filter
951052cb-bb99-437f-8e4e-a063dde8c40d

Popular

d2ad9758-14bc-4654-b964-420bee254137

All