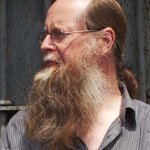 Nigel Williams
After a long professional career in computing, automotive design, animation, photography and multimedia, I have finally decided to let loose some of my personal style of imagery. Throughout my life I have endured being one of those truly mixed-up left-brain and right-brain people, with interests in everything, but especially art, travel, transport, industrial & military archaeology, photography and animation – always being in the middle, equally comfortable in both the art camp and the technical camp, and able to communicate sensitively with both, but constantly bouncing between the two.
I have published two books of images – "K-scopes": a compendium of my kaleidoscopic images, complete with a thumbnail reference section containing the original source image and information; and "Pacific Northwest Iron", an unusual travelogue of images gathered during journies through Oregon, Washington and BC.
For further details, please visit the Orlogik Books website at http://www.orlogikbooks.com.
Read more
Nigel Williams's Store
Filter