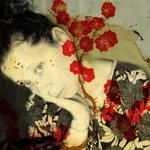 Orly Avineri
Orly Avineri truly believes that the need to be witnessed by the self and by others is a core human need to be fulfilled by the act of creating. Therefore, a compelling part of her journey is the cultivating of creativity in others through the teaching of visual journaling here in the US, and around the world and through independent bookmaking. As a young adult in Israel, she had studied Fine Arts in an artists' village nestled at the foot of the mystical Mount Carmel overlooking the Mediterranean Sea, and later, in the Netherlands, Graphic Design at the University of Arts in the contemporary yet history-drenched city of Utrecht. Now living by the beautiful beach of Southern California with her family, she takes in all the magnificence of the landscapes that shaped her and of the visual languages she has acquired along the way. Orly is passionate about the process of marrying multiple media in a format of a book to create unique and intimate visual experiences for both the eye and the spirit. Engaging in a world that is far more expansive than her own enlivens her to no end. Enjoy: http://oneartistjournal.com and: https://www.facebook.com/orly.avineri Orly Avineri joined Society6 on October 28, 2014
More
Orly Avineri truly believes that the need to be witnessed by the self and by others is a core human need to be fulfilled by the act of creating. Therefore, a compelling part of her journey is the cultivating of creativity in others through the teaching of visual journaling here in the US, and around the world and through independent bookmaking. As a young adult in Israel, she had studied Fine Arts in an artists' village nestled at the foot of the mystical Mount Carmel overlooking the Mediterranean Sea, and later, in the Netherlands, Graphic Design at the University of Arts in the contemporary yet history-drenched city of Utrecht. Now living by the beautiful beach of Southern California with her family, she takes in all the magnificence of the landscapes that shaped her and of the visual languages she has acquired along the way. Orly is passionate about the process of marrying multiple media in a format of a book to create unique and intimate visual experiences for both the eye and the spirit. Engaging in a world that is far more expansive than her own enlivens her to no end.
Enjoy: http://oneartistjournal.com and: https://www.facebook.com/orly.avineri
Orly Avineri joined Society6 on October 28, 2014.
Orly Avineri's Store
60 results
Filter