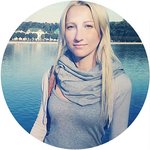 Let's Cats
Culture and science in cats. Salvador Daly, The Beatles, Johnny Depp, Yesenin, Banksy, Miyazaki, Kurt Cobain and other celebrities and famous characters drawn in the form of cats. Art cats, Music cats, Science cats. All rights reserved © Olga Pavlova *osapavlova* Website: http://letscats.com/ VK public: https://vk.com/letscats Shop VK: https://vk.com/letscats_shop FB: https://www.facebook.com/letscats/ Instagram: https://www.instagram.com/letscats/ Let's Cats joined Society6 on February 7, 2015
More
Culture and science in cats.
Salvador Daly, The Beatles, Johnny Depp, Yesenin, Banksy, Miyazaki, Kurt Cobain and other celebrities and famous characters drawn in the form of cats.
Art cats, Music cats, Science cats.
All rights reserved © Olga Pavlova osapavlova
Website: http://letscats.com/ VK public: https://vk.com/letscats Shop VK: https://vk.com/letscats_shop FB: https://www.facebook.com/letscats/ Instagram: https://www.instagram.com/letscats/
Let's Cats joined Society6 on February 7, 2015.