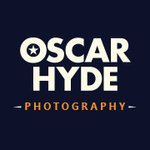 OscarHydeFoto
David captures life's spontaneous moments, the energy, the hidden meaning and the unseen secrets we miss. From the vivid landscapes to the compelling secret life of subjects that are hiding from our daily eyes, he captures the unique 'special something' in each of his subjects. With a strong background in graphic design and branding, photography felt like the missing discipline with a limitless horizon. Capturing a moment in time, never to be replayed again in an eternity, gives us journeys and emotions to be felt for an eternity. www.oscarhyde.com www.facebook.com/oscarhydephotography http://instagram.com/oscarhydefoto OscarHydeFoto joined Society6 on April 30, 2014
More
David captures life's spontaneous moments, the energy, the hidden meaning and the unseen secrets we miss. From the vivid landscapes to the compelling secret life of subjects that are hiding from our daily eyes, he captures the unique 'special something' in each of his subjects.
With a strong background in graphic design and branding, photography felt like the missing discipline with a limitless horizon. Capturing a moment in time, never to be replayed again in an eternity, gives us journeys and emotions to be felt for an eternity.
www.oscarhyde.com www.facebook.com/oscarhydephotography http://instagram.com/oscarhydefoto
OscarHydeFoto joined Society6 on April 30, 2014.