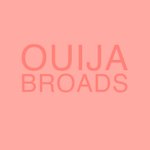 Ouija Broads
Liz and Devon are kind of weird. But that's okay, because the Northwest is weird, too. From skydiving beavers to sea monsters to ghostly rum-runners to Sasquatch, join these two broads on their podcast as they talk about all the spooky and kooky from the Upper Left of the United States.
Their exclusive line of prints, stickers, and more illustrate (heh) the weird stories they tell each other on air. Buying from us is basically the most fun your money can have.
Live weird. Die weird. Stay weird, friends.
Read more
Ouija Broads's Store
34 results
Filter