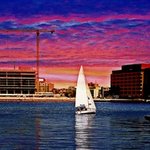 Chet Dembeck
I spent much of my adult life as a journalist working for such publications as the Washington Business Journal, The Capital, the Daily Record, the E-commerce Times , the Howard County Times, the Laurel Leader and the Baltimore Examiner. I co-won "Best of Show" in 1998 from the Maryland/DC- Press Association for an expose I co-authored with the editor of the Laurel Leader. During some of these reporting stints I had the opportunity to perform double duty as a journalist and a photographer. The more and deeper I delved into the world of images, art and the then new niche of digital photography, the more I found it opened a door to a level of self expression I had been searching for my entire life. After leaving the deteriorating and dying world of news reporting in 2010 (that's another story to be told), I decided to spend my time expressing my view of the world in digital, watercolor and photographic images. Some of my works are pure photographs, while many of them are composed of a mix of watercolors, pencil drawings and digital images. Each has its own unique style and impression. Collectively, they represent how I see the world. A world of stunning impressions created by brilliant colors, images and raw emotions. Chet Dembeck joined Society6 on February 4, 2015
More
I spent much of my adult life as a journalist working for such publications as the Washington Business Journal, The Capital, the Daily Record, the E-commerce Times , the Howard County Times, the Laurel Leader and the Baltimore Examiner.
I co-won "Best of Show" in 1998 from the Maryland/DC- Press Association for an expose I co-authored with the editor of the Laurel Leader. During some of these reporting stints I had the opportunity to perform double duty as a journalist and a photographer.
The more and deeper I delved into the world of images, art and the then new niche of digital photography, the more I found it opened a door to a level of self expression I had been searching for my entire life. After leaving the deteriorating and dying world of news reporting in 2010 (that's another story to be told), I decided to spend my time expressing my view of the world in digital, watercolor and photographic images.
Some of my works are pure photographs, while many of them are composed of a mix of watercolors, pencil drawings and digital images. Each has its own unique style and impression. Collectively, they represent how I see the world. A world of stunning impressions created by brilliant colors, images and raw emotions.
Chet Dembeck joined Society6 on February 4, 2015.