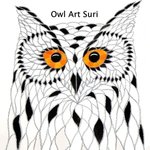 Owl Art Suri
I am a big OwLover from Germany. I collect owls, love arts and handycrafts. I painted owls from 2010 - 2015. Please take a lô,ôk at my FB page! https://www.facebook.com/owlartsuri I also have got a page with Owl Art from various artists. https://www.facebook.com/owlartcollection And a group for OWL ART, where artists can share and promote their art. https://www.facebook.com/groups/463521017040927/ This is my homepage: https://owlartsuri.wix.com/owls You also can find me at Zazzle, Deviantart, Pinterest, Fineartprint, Etsy and Dawanda. Owl Art Suri joined Society6 on October 22, 2014
More
I am a big OwLover from Germany. I collect owls, love arts and handycrafts. I painted owls from 2010 - 2015.
Please take a lô,ôk at my FB page! https://www.facebook.com/owlartsuri
I also have got a page with Owl Art from various artists. https://www.facebook.com/owlartcollection
And a group for OWL ART, where artists can share and promote their art. https://www.facebook.com/groups/463521017040927/
This is my homepage: https://owlartsuri.wix.com/owls
You also can find me at Zazzle, Deviantart, Pinterest, Fineartprint, Etsy and Dawanda.
Owl Art Suri joined Society6 on October 22, 2014.
Owl Art Suri's Store
349 results
Filter