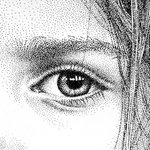 pablo jurado ruiz
Pablo Jurado Ruiz, artist interested in drawing, painting and photography. Born in Malaga / Spain in 1973. With a creative concept based primarily on human representation, I try to tell stories through a minimalist and subtle vision. My current work is focuses on a simple but realistic drawing and worked in an impressionist technique, complex and very accurate as pointillism or stippling art. I like to talk about love, disappointment, nature, childhood… and I show it in a glance, a gesture or a detail as if it were a metaphor of life. pablo jurado ruiz joined Society6 on August 21, 2013
More
Pablo Jurado Ruiz, artist interested in drawing, painting and photography. Born in Malaga / Spain in 1973.
With a creative concept based primarily on human representation, I try to tell stories through a minimalist and subtle vision. My current work is focuses on a simple but realistic drawing and worked in an impressionist technique, complex and very accurate as pointillism or stippling art. I like to talk about love, disappointment, nature, childhood… and I show it in a glance, a gesture or a detail as if it were a metaphor of life.
pablo jurado ruiz joined Society6 on August 21, 2013.
pablo jurado ruiz's Store
162 results
Filter