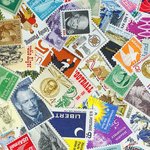 packandpost
Hello there. I'm Samantha. I've always had a love of the postal system and even though I can't imagine my life without computers, there's a special feeling that comes from sending and receiving a hand written note that you just can't reproduce online. This society6 shop showcases photographs of my vintage stamp collection - as well as pieces I have for sale in my vintage postage Etsy shop. ( http://www.etsy.com/shop/packandpost ) You can keep up with new stamp designs in the shop by following me on tumblr: http://www.packandpost.tumblr.com packandpost joined Society6 on September 19, 2012
More
Hello there. I'm Samantha.
I've always had a love of the postal system and even though I can't imagine my life without computers, there's a special feeling that comes from sending and receiving a hand written note that you just can't reproduce online.
This society6 shop showcases photographs of my vintage stamp collection - as well as pieces I have for sale in my vintage postage Etsy shop. ( http://www.etsy.com/shop/packandpost )
You can keep up with new stamp designs in the shop by following me on tumblr: http://www.packandpost.tumblr.com
packandpost joined Society6 on September 19, 2012.
Popular+cases by packandpost
0 result
Filter