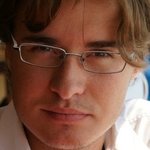 Paco Simone
At school, Paco jumped directly in the second grade when he was 5 years old because he could read the selling price of an Alfa Romeo in one breath. At 13 yo. he opened, with his best friend, his first company, thanks to Dad's PC: a bulky IBM 286. At 17, between a Math lesson and a Greek one, driven by an irrepressible passion for storytelling and, at the same time, for new technologies, he decided to open a website to publish emerging writers, www.ARPANet.org. 6 days after completing 20 years he created ARPANet, an innovative company involved in technology and communication for Culture. Today, little more than 30 years, he leads a brilliant young team, always looking for the New, the Intriguing, the Beauty. And his writings are still there, in a drawer. He likes to speak in public, preferably wide public, so it's always in the front line when someone call him to lecture at the University. Paco lives and works in Milan, he's a journalist, reads historical novels and loves to fly. If you like to get in touch with him, you can find him online! Call him, if you like, via Skype: pacox1978. Or see what he's looking at, connecting to his page on Instacanvas: http://www.instacanv.as/pacox1978. Maybe you would discover his favourite places: https://www.foursquare.com/pacosimone. Paco Simone joined Society6 on June 13, 2012
More
At school, Paco jumped directly in the second grade when he was 5 years old because he could read the selling price of an Alfa Romeo in one breath. At 13 yo. he opened, with his best friend, his first company, thanks to Dad's PC: a bulky IBM 286. At 17, between a Math lesson and a Greek one, driven by an irrepressible passion for storytelling and, at the same time, for new technologies, he decided to open a website to publish emerging writers, www.ARPANet.org. 6 days after completing 20 years he created ARPANet, an innovative company involved in technology and communication for Culture. Today, little more than 30 years, he leads a brilliant young team, always looking for the New, the Intriguing, the Beauty. And his writings are still there, in a drawer. He likes to speak in public, preferably wide public, so it's always in the front line when someone call him to lecture at the University. Paco lives and works in Milan, he's a journalist, reads historical novels and loves to fly.
If you like to get in touch with him, you can find him online! Call him, if you like, via Skype: pacox1978. Or see what he's looking at, connecting to his page on Instacanvas: http://www.instacanv.as/pacox1978. Maybe you would discover his favourite places: https://www.foursquare.com/pacosimone.
Paco Simone joined Society6 on June 13, 2012.