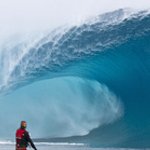 PADDLE CLOUDBREAK
Please visit at our website P A D D L E C L O U D B R E A K . C O M which was created by two photographers Rusty Russell & Cole Speier. We created this to share the story of Cloudbreak and one of the greatest and most historic days in modern surfing history. Our goal is to get kids surfing. We are generating money through the sale of our pictures to buy new surfboards and surf equipment for kids in Fiji unable to do so, and give back to a country and people that has and continues to give so much to Cole & I while expecting nothing in return. Our job is to travel the globe to chronicle in pictures all aspects of surfing in and out of the water. Almost imaginary conditions greeted us at Cloudbreak June 08, 2012. Here are photographs of some of the World's greatest big wave paddle surfers including Kala Alexander, Mark Healy, Danny Fuller, Makua Rothman, Lapo Coutino, Dean Bowen, Ryan Hippwood, Grant 'Twig' Baker, Kohl Christensen, Ramon Navarro, Danilo Couto, Nathan Fletcher, Ian Walsh, Mick Fanning, Pat & Dane Gudauskus and more, whose memorable efforts on June 08 captured World attention redefining what was possible & defining themselves as the greatest big wave surfers of all time. These pictures illustrate the strengths that made many of these individual surfers famous – Riding waves of deadly consequence beautiful yet terrifying. PADDLE CLOUDBREAK joined Society6 on October 26, 2012
More
Please visit at our website P A D D L E C L O U D B R E A K . C O M which was created by two photographers Rusty Russell & Cole Speier. We created this to share the story of Cloudbreak and one of the greatest and most historic days in modern surfing history.
Our goal is to get kids surfing. We are generating money through the sale of our pictures to buy new surfboards and surf equipment for kids in Fiji unable to do so, and give back to a country and people that has and continues to give so much to Cole & I while expecting nothing in return.
Our job is to travel the globe to chronicle in pictures all aspects of surfing in and out of the water.
Almost imaginary conditions greeted us at Cloudbreak June 08, 2012.
Here are photographs of some of the World's greatest big wave paddle surfers including Kala Alexander, Mark Healy, Danny Fuller, Makua Rothman, Lapo Coutino, Dean Bowen, Ryan Hippwood, Grant 'Twig' Baker, Kohl Christensen, Ramon Navarro, Danilo Couto, Nathan Fletcher, Ian Walsh, Mick Fanning, Pat & Dane Gudauskus and more, whose memorable efforts on June 08 captured World attention redefining what was possible & defining themselves as the greatest big wave surfers of all time.
These pictures illustrate the strengths that made many of these individual surfers famous – Riding waves of deadly consequence beautiful yet terrifying.
PADDLE CLOUDBREAK joined Society6 on October 26, 2012.
PADDLE CLOUDBREAK's Store
17 results
Filter