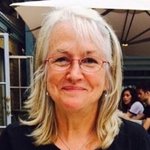 Paige Carter
Trained in the early 80's as a glassblower with the intention of having my own hot glass studio, I quickly realized the enormity of maintaining a successful glassblowing career. With a growing family, I turned to hand-painted ceramic tiles for kitchens and bathrooms. In 1988 I started applying my designs and painting technique to heavy, cotton canvas, and voila! - art underfoot! I love the freedom of the large canvas, as well as the sensibility of a cloth "rug" that can withstand everyday life. Now, in 2016, I am expanding my work to incorporate table coverings and placemats as well as wall hangings. My designs tend to express my whimsical nature, my love of bold colors and strong statements, as well as the beauty of the landscapes where I have lived - surrounded by the serenity of cranberry bogs, ponds and ocean. Paige Carter joined Society6 on August 8, 2016
More
Trained in the early 80's as a glassblower with the intention of having my own hot glass studio, I quickly realized the enormity of maintaining a successful glassblowing career. With a growing family, I turned to hand-painted ceramic tiles for kitchens and bathrooms. In 1988 I started applying my designs and painting technique to heavy, cotton canvas, and voila! - art underfoot! I love the freedom of the large canvas, as well as the sensibility of a cloth "rug" that can withstand everyday life. Now, in 2016, I am expanding my work to incorporate table coverings and placemats as well as wall hangings.
My designs tend to express my whimsical nature, my love of bold colors and strong statements, as well as the beauty of the landscapes where I have lived - surrounded by the serenity of cranberry bogs, ponds and ocean.
Paige Carter joined Society6 on August 8, 2016.
Paige Carter's Store
2 results
Filter