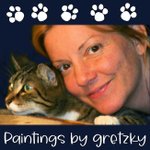 gretzky
Hello there! I create my paintings with acrylic paint and digital methods. This is where you will find paintings of my favorite subjects like animals, suns, oceans and non-subjective abstracts.
I also have a shop with just my cat art:
https://society6.com/catattack
And another with inspirational word art:
https://society6.com/stayinspired
Please cut and paste the following link into your browser to sign up for my newsletter, where you will receive free printable cards and special offers from my Etsy shop.
https://mailchi.mp/9b5d94558d57/sign-up-with-gretzky
My main website is: https://paintingsbygretzky.com/
I sell my originals on Etsy: https://www.etsy.com/shop/Paintingsbygretzky
Thanks, have an awesome day!
Read more