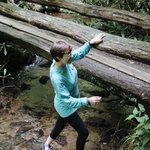 Hunter C. AKA Palehandsmalone
I'm a 20-something college student seeking a major in Art History and minors in both English as well as History. I have deeply loved photography ever since a friend introduced me to Flickr in 2008 and haven't looked back. As of late, I have been doing more portraiture for friends, but my heart lies with landscape photography (of all sorts). The prints I post for purchase are personal favorites of mine, and I hope you enjoy them too! Thank you for reading, -Hunter C. Hunter C. AKA Palehandsmalone joined Society6 on August 2, 2015
More
I'm a 20-something college student seeking a major in Art History and minors in both English as well as History. I have deeply loved photography ever since a friend introduced me to Flickr in 2008 and haven't looked back. As of late, I have been doing more portraiture for friends, but my heart lies with landscape photography (of all sorts). The prints I post for purchase are personal favorites of mine, and I hope you enjoy them too!
Thank you for reading,
-Hunter C.
Hunter C. AKA Palehandsmalone joined Society6 on August 2, 2015.
Hunter C. AKA Palehandsmalone's Store
71 results
Filter