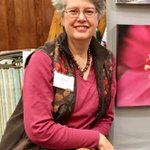 Pamela Eden Photography and Fine Art
Pamela is a photographer and Fine artist who lives in northwest New Jersey. Her work is colorful, predominantly florals, but she also enjoys photographing architecture and automobiles. Most of her recent photography is digitally manipulated to give them a softer abstract presence. Pam paints in acrylics and watercolors in a unique sketchbook type style.
Pamela takes her artwork "on the road" in the summer months, to exhibit in Outdoor Art Festivals in New Jersey and eastern Pennsylvania. Her schedule is available from her website: http://pedenphotography.com.
Pam encourages you to like her FaceBook page: @pjedenphotography
Read more