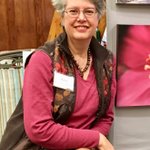 Pamela Eden Photography
Pamela is a photographer who lives in northwest New Jersey. Her work is colorful, predominantly florals, but she also enjoys photographing architechture and automobiles. She has recently started digitally manipulating her photographs to create more abstract images. Pamela takes her photographs "on the road" in the summer months, to exhibit in Outdoor Art Festivals in New Jersey and eastern Pennsylvania. Her schedule is available from her website: http://pedenphotography.com. Pam encourages you to like her FaceBook page: @pjedenphotography Pamela Eden Photography joined Society6 on February 11, 2017
More
Pamela is a photographer who lives in northwest New Jersey. Her work is colorful, predominantly florals, but she also enjoys photographing architechture and automobiles. She has recently started digitally manipulating her photographs to create more abstract images.
Pamela takes her photographs "on the road" in the summer months, to exhibit in Outdoor Art Festivals in New Jersey and eastern Pennsylvania. Her schedule is available from her website: http://pedenphotography.com.
Pam encourages you to like her FaceBook page: @pjedenphotography
Pamela Eden Photography joined Society6 on February 11, 2017.