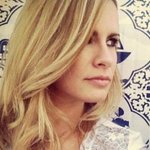 Pamela Carlos Designs
Thank you for visiting my page. I am Pamela Carlos, a Graphic Designer currently living in Phoenix, Arizona. I am originally from Guatemala, a small country with a fascinating cultural history. I have always been captivated by the bold colors and patterns that represent the place where I grew up.
In March of 2002 I moved to Budapest, Hungary. Little did I know how my life would change after making that decision. After receiving a training in Visual Merchandising at a Dutch clothing company called Mexx, I decided to continue my journey through Europe and moved to Florence, Italy, where I had the chance to explore my artistic talents. During that year in Florence I took several courses including History of Art, Photography, Painting, and Window Displays Design. At that moment, I realized how passionate I felt about Fashion, Art and Design.
Based on the experience I obtained during my stay in Europe, I decided to pursue a career in Graphic Design. I moved to the United States, where I obtained my Bachelor's Degree in Graphic Design from the Art Institute of Phoenix. I proudly received the award for Best Portfolio at Graduation.
Having lived in four completely different cultures opened my mind and helped me discover the path that I wanted to take in my life. Traveling has always been one of my major sources of inspiration. I feel inspired everywhere I go. Even though I specialize in Corporate Identity and Editorial Design, I also love experimenting with typefaces and doing illustrations. I am always motivated by new challenges and can offer innovative and effective solutions to diverse design projects.
On 2014, I had the opportunity of working on one of Arizona's largest printing companies: Prisma Graphic. Today, they offer a full spectrum of marketing solutions in a streamlined approach to power your Message to Market with speed, quality, and control. It's a unique combination of services you won't find anywhere else. Some of their key accounts for which I was able to do several designs included: Starwood Hotels and Resorts: W Hotels, Aloft Hotels, St. Regis Hotels, The Canyon Suites at the Phoenician - A Luxury Collection Resort, The Spa at La Posada - A Luxury Collection Resort and Spa, Stanley Security Solutions, Wells Fargo, Avnet, Inc., APS, Sherri May & Co., IHOP, AZ Diesel Solutions, Meritage Homes, among others.
At the moment, I am working as a Contract/Freelance Graphic Designer. At the same time, I am currently designing Artwork that will be sold as Gallery Quality Art Prints, iPhone and Tablet Cases, T-shirts, Greeting Cards, Home Decor (including Throw Pillows, Mugs, Shower Curtains, Wall Tapestries, Duvet Covers, Rugs, and Wall Clocks). The merchandise will be available for purchase on my personal page, in Society6.
Read more
Pamela Carlos Designs's Store
Filter
Pamela Carlos Designs's Store