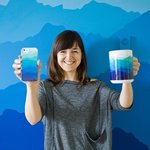 Pam Lostracco
Pam Lostracco is a muralist and designer living and working in Toronto, Canada. She graduated from the Ontario College of Art and Design earning the Robyn Comyn Cumine Illustration Scholarship. While working for several design studios including Dinnick & Howells and Viva Dolan, her work has been awarded by the Advertising & Design Club of Canada, Applied Arts, and Communication Arts. Currently freelancing, she makes math workbooks look fun and sells mountain calendars on Etsy.
Pam is also a mixed-media artist and sells her artwork at exhibitions and on Zatista. She developed a unique art process that combines her favorite mediums; drawing, painting, and photography. Each medium is layered on a separate sheet of translucent mylar, then photographed, and framed in thick acrylic. The details appear to move around the composition while the acrylic magnifies it's depth.
Pam has exhibited at the Toronto Outdoor Art Exhibition, OCAD's Whodunit? Auction, and the Toronto Pearson International Airport. She has been involved with public art projects including a bench for Liberty Village's Benchmark contest, a slideshow presented in TTC stations for the Contact Photography Festival, paintings for the TTC streetcar shelters on St. Clair West, and a painting depicting Shelter sold in an auction for Design Hope Toronto. Recently, she was commission by the Four Seasons Hotel to make three large paintings for their spa in Silicon Valley.
Read more
Pam Lostracco's Store
Filter