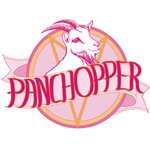 Panchopper
Post-contemporary artist dealing in colorful, ultra-detailed, fantastic and weird portals to other dimensions. Inspired by martial arts, monsters, sci-fi, fantasy, and the real world. I want to inspire people to do whatever the fuck they want. Visit my site: www.panchopper.net for more art, more info, and my blog! Twitter: https://twitter.com/Panchopperrrrrr Facebook: https://www.facebook.com/panchoppernet/ Instagram: https://www.instagram.com/panchopperrrrrr/?hl=en Panchopper joined Society6 on April 19, 2016
More
Post-contemporary artist dealing in colorful, ultra-detailed, fantastic and weird portals to other dimensions. Inspired by martial arts, monsters, sci-fi, fantasy, and the real world. I want to inspire people to do whatever the fuck they want.
Visit my site: www.panchopper.net for more art, more info, and my blog! Twitter: https://twitter.com/Panchopperrrrrr Facebook: https://www.facebook.com/panchoppernet/ Instagram: https://www.instagram.com/panchopperrrrrr/?hl=en
Panchopper joined Society6 on April 19, 2016.