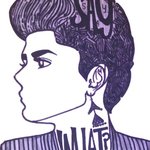 pandaliondeath
Art is not only for walls, it should be wearable and usable too! Budding apparel and accessories designer. If you love colours and surrealism, you've come to the right place. Self-taught illustrator of abstracts, prints, typography, and all three combined... which probably explains my love for graphic design. My art is only available online right now until I can eventually open an independent store as well. Commissions and personalisations available - contact pandaliondeath@gmail.com Thanks for looking! Art blog: http://pandaliondeath.tumblr.com Clothing collection: http://printallover.me/collections/pandaliondeath T-shirts and accessories: http://www.redbubble.com/people/pandaliondeath Contact: pandaliondeath@gmail.com https://www.facebook.com/pandaliondeath https://twitter.com/pandaliondeath pandaliondeath joined Society6 on April 24, 2014
More
Art is not only for walls, it should be wearable and usable too! Budding apparel and accessories designer. If you love colours and surrealism, you've come to the right place. Self-taught illustrator of abstracts, prints, typography, and all three combined... which probably explains my love for graphic design. My art is only available online right now until I can eventually open an independent store as well. Commissions and personalisations available - contact pandaliondeath@gmail.com Thanks for looking!
Art blog: http://pandaliondeath.tumblr.com
Clothing collection: http://printallover.me/collections/pandaliondeath
T-shirts and accessories: http://www.redbubble.com/people/pandaliondeath
Contact: pandaliondeath@gmail.com https://www.facebook.com/pandaliondeath https://twitter.com/pandaliondeath
pandaliondeath joined Society6 on April 24, 2014.