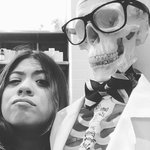 C.S. Pants 83
Los Angeles based freelance artist. Specialized in motion graphics for film and trailers. Native Angelino, y soy bilingue, hablo Español. Dedicated veggie foodie, borderline vegan, wanna be francophile, animal enthusiast, fan of all things plucky! Designer by day, painter/storyteller by night. www.littlemisscindypants.com C.S. Pants 83 joined Society6 on August 10, 2016
More
Los Angeles based freelance artist. Specialized in motion graphics for film and trailers. Native Angelino, y soy bilingue, hablo Español. Dedicated veggie foodie, borderline vegan, wanna be francophile, animal enthusiast, fan of all things plucky!
Designer by day, painter/storyteller by night.
www.littlemisscindypants.com
C.S. Pants 83 joined Society6 on August 10, 2016.