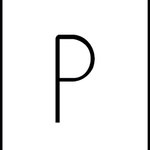 Paola4416
Paola is an independnet multidisciplinary designer in Miami, FL. She earned her degrees from the University of Miami in Graphic Design and International Relations. Coupling these two degrees has given Paola a way to promote her love for "design for change". Her focus is on branding, editorial, and graphic design. Paola4416 joined Society6 on May 3, 2014
More
Paola is an independnet multidisciplinary designer in Miami, FL.
She earned her degrees from the University of Miami in Graphic Design and International Relations. Coupling these two degrees has given Paola a way to promote her love for "design for change".
Her focus is on branding, editorial, and graphic design.
Paola4416 joined Society6 on May 3, 2014.