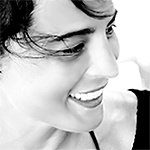 Paola Zafiropoulos
Paola Zafiropoulos Communication / Graphic Design / Illustrations / Comics Self-taught artist. Imperfect perfectionist. Passionate about Vintage, Blues and gyros. Paola Zafiropoulos is a graphic designer and artist from Venice. The influence of her Italian-Greek origin has created a powerful mix of two cultures opened to the world and this draws a deep mark in her works, from the stories to the illustrations. The sensuality and the evocative imagery of her inner world affects the innocence of the writing style and passion that shines through in all her works. The dry style of her writing keeps the reader in suspense until the last line, revealing surprising ends. For her talent, she has been selected as emerging writer in the Biennale of Young Artists of the Mediterranean where she participated with the story "The Journey" (published by Landau). She recently restarted to draw her HEIMONA, a sensual heroin published on comics fanzines a few years ago. She lives and works Venice. In her PZ Studio they make projects for communication for businesses, professionals and artists from all over the world. www.studiopz.net - facebook.com/HEIMONA - www.paolazafiropoulos.it Paola Zafiropoulos joined Society6 on July 9, 2013
More
Paola Zafiropoulos Communication / Graphic Design / Illustrations / Comics
Self-taught artist. Imperfect perfectionist. Passionate about Vintage, Blues and gyros.
Paola Zafiropoulos is a graphic designer and artist from Venice. The influence of her Italian-Greek origin has created a powerful mix of two cultures opened to the world and this draws a deep mark in her works, from the stories to the illustrations. The sensuality and the evocative imagery of her inner world affects the innocence of the writing style and passion that shines through in all her works.
The dry style of her writing keeps the reader in suspense until the last line, revealing surprising ends. For her talent, she has been selected as emerging writer in the Biennale of Young Artists of the Mediterranean where she participated with the story "The Journey" (published by Landau). She recently restarted to draw her HEIMONA, a sensual heroin published on comics fanzines a few years ago.
She lives and works Venice. In her PZ Studio they make projects for communication for businesses, professionals and artists from all over the world.
www.studiopz.net - facebook.com/HEIMONA - www.paolazafiropoulos.it
Paola Zafiropoulos joined Society6 on July 9, 2013.